SHOSHIN RYU
CHILDREN'S CLASS
The Class
Shoshin Ryu children's martial arts classes include Nage (throws), Newaza (ground techniques), Atemi (strikes), Goshinjutsu (self defense) and Buki Keiko (weapons).
Shoshin Ryu Kokoro Series emphasize personal growth and character development that will instill discipline and focus that can follow a student in all aspects of their life.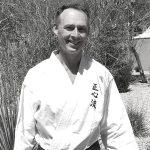 Sensei Michael Lewenczuk
Lead instructor of the Phoenix Shoshin Ryu dojo. 30+ years of martial arts experience.